Buying guide: types of wood floors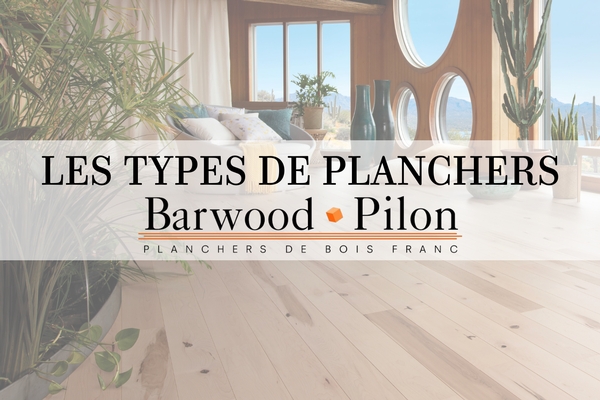 It's easy to get lost among all the types of wood floors on the market. Each of them have their particularities. Our buying guide allows you to make an informed decision on which floor is best for you.
Pre-varnished
wood floor
The particularity of pre-varnished wood flooring is its consistency. What does it mean ? It means that these are more regular products. The production line guarantees superior quality.
The varnish is applied to the surface to seal the product. Most pre-varnished floors have a classier look.
Thanks to its layer of varnish applied to the surface, the pre-varnished wood floor is very resistant to marks and scratches. It is therefore an excellent option for pet owners or for high traffic rooms.
Its resistance makes it a very durable floor. On the other hand, its regeneration is more difficult. As the varnish is on the surface, it is more difficult to sand. It is therefore work that will take more time and will be more expensive.
Pre-oiled
wood floors
What is the difference between pre-oiled and pre-varnished wood flooring? They differ in their appearance and in their manufacturing processes. The pre-oiled wood floor is handmade, so it has a more artisanal look. Following the application of the oil, the product dries in the open air.
Pre-oiled floors also have a matte finish. This is why they have experienced a growing popularity in recent years.
The advantage is that its regeneration is easy. It is possible to make local repairs simply.
For example, the floor of your house is entirely covered with prefinished wood flooring. After 10 years you notice that the floor is damaged, but only in the kitchen. It is possible to redo the varnish only for this piece!
The result is perfectly uniform and the work is simple, quick and inexpensive. This is why pre-oiled wood flooring is often used in commercial places.
For quality pre-oiled wood floors, select manufacturers who specialize in this type of production. For example, Permabois floors only make pre-oiled wood flooring. It is an expertise that makes a real difference!
Laminate
wood flooring vs
Vinyl
wood flooring
Laminate wood flooring and vinyl wood flooring are very similar. The particularity of laminate and vinyl floors is their imitation of wood. In other words, they mimic the look of wood.
For laminated wood flooring, an "image" of wood is applied to a body of wood. Often made from HDF fibreboard. It is a floor that is resistant to marks and will often be used in residential contexts.
Vinyl floors can be made of stone or wood. Thus, they are waterproof in addition to being very resistant to marks and scratches. This type of flooring will often be used in commercial locations.
Laminate floors are an inexpensive and durable option. In addition, the appearance of laminates is getting closer and closer to that of wood. So we have the illusion of a real wooden floor, at a low price!
Bois-Franc
wood flooring vs
Engineered
Hardwood floors and engineered floors are very close.
What is hardwood?
Hardwood flooring is made of wood over ¾ inch of its thickness. Its main advantage is that its regeneration is simple. It can be sanded and refinished many times over its lifetime.
The maximum width of hardwood planks is generally 4" ¼.
What is engineered wood?
Engineered wood floors look the same as hardwood on the surface. Where they are different is in their composition. Engineered wood is made from wood that is much more stable through variations in humidity.
Engineered wood siding is a little more expensive than hardwood, since it takes more time in the factory. Learn more about the cost of wood floors.
According to popular belief, it is not possible to refinish engineered flooring. But with Mirage technology, this statement is false. Mirage engineered floors can be re-sanded with no problem.
Engineered flooring also has better stability in terms of temperature and humidity changes. This is why we can have wider boards (5", 6" ½, 7" ¾). It is therefore the ideal floor for installation on concrete. Thus, it is often recommended for basements and condos.