Choosing the proper White Oak Floor.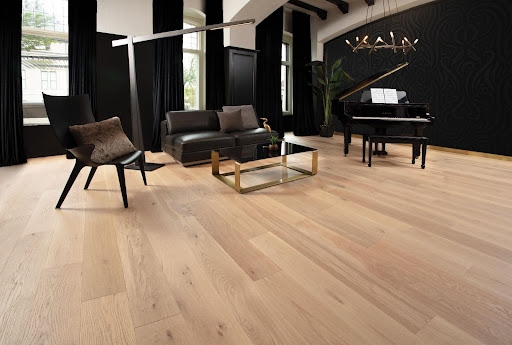 In 2022, designers seem to agree that white oak is the star of hardwood floors.
In the past, White Oak was mainly used for maritime construction. For several decades now, White Oak has been used in Europe and North America for furniture and interior finishes.
What makes it so popular? Probably its hardness and its modern look! No wonder it's the trendiest wood species for hardwood floors.
The selection of flooring in a renovation project is one of the most important decisions! We want to choose the colour, the finish and the texture. The combination of all these factors gives a very different look depending on the wood species.
It's not an easy decision. Let us guide you in this one!
What is a White Oak Floor?
There are two types of oak flooring, white oak and red oak. Like Ash and Hickory, Oak floors are exposed grain wood species. Their character hides imperfections better than more uniform essences. Red Oak is a lighter wood with colours ranging from white to red. The colour of white oak wood is a blend of pale creamy beige to grizzled brown.
White Oak is sometimes more expensive than red oak. However, it is more affordable than exotic or rare wood species. In addition to being durable, a white oak floor gives your space a timeless, attractive and luxurious feel.
White Oak is offered in several colours and finishes. It adds character and warmth to a room. It may be interesting to mix it with colder materials such as concrete. Concrete and white oak form a harmonious alliance!
The trend is especially to opt for wide white oak planks. Wide planks showcase the natural beauty of wood and add brightness to your space.
How to choose a hardwood floor colour?
Obviously, your selection of hardwood floors is not just about selecting the species. But how to choose?
Harmonize Wood Colours
Your interior decoration is inevitably made up of different shades of wood. Whether it is the wood of your walls, doors, mouldings or furniture, they must be taken into consideration. Do not hesitate to play with contrasts and materials. The natural richness of wood can be enhanced by more noble materials.
For example, combine a beige oak floor with brick walls in redder hues and darker decor.
You can also combine a very pale white oak floor with a much darker wood wall. Playing with contrasts is key. Especially in the arrangement of your furniture.
Remember that each floor colour will bring a different vibe to your space.
The light beige floor: Very modern look and expands the space.
Dark beige-yellow floor: Reminds nature, naturalness and comfort while generally allowing any kind of interior decoration.
Orange to burgundy red floor: Evokes warmth and intimacy, but also a more theatrical aspect.
Brown floor: Warm and goes well with more colourful decorative elements.
Black flooring: Elegant and luxurious look, but must be matched with contemporary furniture and the same look.
Grey floor: Modern look that allows the addition of decoration in brighter colours.
Think about the light
The colour of your white oak floor should also depend on the size and lighting of the room. Dark wood in a small room where natural light is scarce will make the space look even smaller and colder.
You can use the natural lighting in your home to your advantage to accentuate your floors. Indeed, installing the floor slats in the direction of the main light source brings out its colours. For example, if your room has only one window, place the slats perpendicular to it.
Another important point is in regard as if your room is very exposed to the sun, it will be necessary to choose a variety and a colour of parquet resistant to light in order to avoid as much as possible the variations of colours once the parquet is installed.
What is the more resistant floor?
The resistance of a floor depends on several factors such as the finish, the species of wood, the structure, etc.
Thanks to its special cell structure, White Oak is a very stable hardwood. Hence its use in the manufacture of ships.
A stable wood is preferable for a floor, because it will react much less to variations in humidity and temperature in its environment.
In short…
White oak hardwood flooring is a worthwhile investment! Its natural and timeless look as well as its resistance will undoubtedly add value to your home.
If you need expert help, stop by Barwood Pilon. Our 2 showrooms allow you to discover our wide range of white oak wood.

Shop our White Oak Offer and request an estimate easily on our website!