5 buying factors for hardwood flooring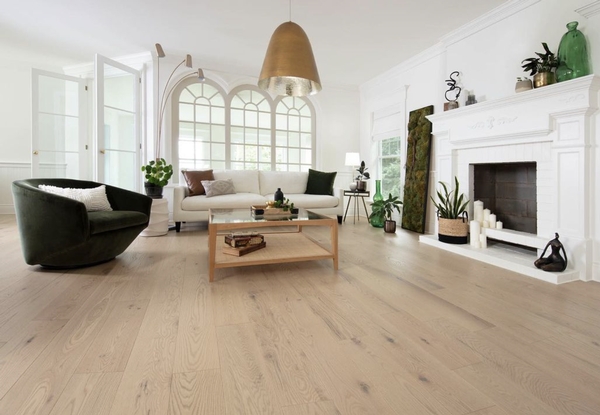 The purchase of hardwood flooring is a crucial decision for any homeowner concerned with the aesthetics and durability of their space. From the selection of the type of wood to the choice of color and layout, several factors need to be examined to ensure an informed decision. This guide looks in detail at the five most important factors to consider when buying hardwood flooring. Discover practical tips to help you make the best possible choice for your living space.
The type of floor
The first thing to consider is the type of flooring that will best suit your space. The room in which the floor will be installed plays an essential role, as humidity levels can vary considerably from one room to another. For example, bathrooms and basements tend to be more humid than other spaces, which can influence the type of wood and finish you should choose. If you have pets or young children, it's also crucial to consider their potential impact on the floor. Active pet paws or young children playing can lead to scratches and scrapes, making it important to choose a scratch-resistant wood.
Plank color and width
In addition to the type of flooring, the color and width of the planks play an essential role in the overall aesthetics of your space. Currently, wide planks are gaining in popularity, offering an open, modern feel to a room. Similarly, light-colored hardwood floors are increasingly in vogue, bringing brightness and warmth to a room. However, it's crucial to consider the style of your home and your personal preferences. If you prefer a more traditional look, narrower planks and a darker shade may better suit your aesthetic. Choosing the color and width of the planks requires careful thought about the overall mood you want to create. It's also important to keep in mind the color palette of your room, including walls and furniture. Make sure the colors complement and harmonize to create a warm, inviting ambience.
How to place the planks
In addition to wood type and color, the placement of hardwood planks can significantly influence the look and feel of a room. Placement options include horizontal and vertical. There's also the option of going with herringbone patterns at a 45-degree angle, or herringbone at a 90-degree angle. It's crucial to consider the layout of the planks according to the size and shape of the room. For the direction of installation, it's always advisable to place the boards in the opposite direction to the joists. This is a very important technical aspect. The right placement can not only create an interesting visual effect, but also optimize space aesthetically.
Opt for quality flooring
When investing in hardwood flooring, quality is a crucial element not to be overlooked. Thorough research is essential to choosing a high-quality hardwood floor that guarantees longevity and durability. Among the many options available on the market, Mirage brand flooring stands out as an exceptional choice. Renowned for their durability and replaceability, Mirage floors offer the assurance of a superior quality option. Not only are they built to last, they also offer an environmentally friendly alternative. While they may represent a larger initial investment, it's crucial to consider the longevity of the floor, which can easily last a decade or more. Investing in quality flooring can not only add value to your home, but also reduce replacement costs in the long run.
Visit a Barwood store to make the best decision
Ultimately, despite all the research and knowledge you can acquire online, it's always advisable to consult an in-store expert before making a final decision. Barwood Pilon, for example, offers seasoned experts who can effectively guide you to the best flooring choice for your specific needs. While online exploration can offer you inspiration, there's no substitute for the sound advice of a professional in person. These experts will take into consideration your aesthetic preferences, the style of your home, the size of the space and your budget, and provide you with personalized recommendations to help you make the best possible decision. Don't hesitate to take advantage of their expertise to ensure that your investment in a new hardwood floor will meet all your expectations in terms of quality, durability and aesthetics.