Hardwood flooring: durable and trendy!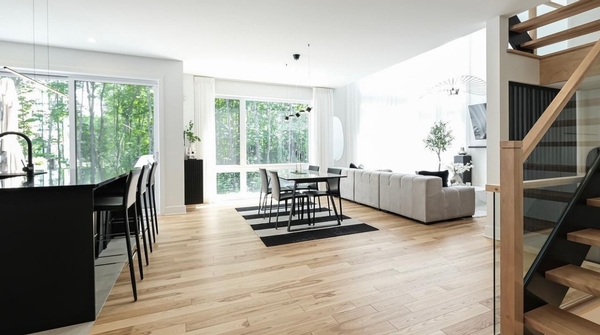 Hardwood flooring: durable and trendy!
Welcome to our blog series dedicated to the exciting world of sustainability and hardwood flooring. Discover how every decision you make can not only beautify your living space, but also help preserve our environment. We're delighted to share with you relevant information and helpful tips to guide you towards informed, planet-friendly decisions that will bring a touch of beauty and quality to your home. Let's enter the fascinating world of hardwood flooring together and discover how a simple choice of floor can make a big difference.
Why are sustainable floor coverings on trend?
The rise of sustainability is undeniable, becoming a fundamental issue of our time. Its importance is growing steadily, moving beyond a passing fad to become firmly rooted in the collective consciousness of our society. Companies, in search of real change, are reorienting their philosophies around environmentally-friendly concepts.
This preoccupation with sustainability is not confined to the professional sphere, but also extends to the private sphere. More and more homeowners are placing a premium on environmentally-friendly living, whether through sustainable construction or the use of eco-friendly, resource-saving materials and furnishings. This approach also applies to sustainable floor coverings. "Quality over quantity" is the golden rule. In other words, it makes far more sense to invest once in a beautiful, durable floor that lasts almost a lifetime, than to replace the flooring at regular intervals with a material destined for a limited lifespan. The latter option entails a considerable waste of time, materials and money. So choosing a durable floor covering is economical on every level: for your wallet, your peace of mind and for the environment.
Is hardwood a durable floor covering?
Hardwood remains undeniably one of the preferred choices for natural flooring, and has been for many years. Hardwood floors not only embody tradition and beauty, they also offer a wide range of finishes, perfectly suited to all interior design styles, bringing a lasting touch of elegance to your home. In terms of environmental friendliness, wood flooring is the undisputed choice, because wood is essentially a natural, renewable material. Choosing this material means making a commitment to the ecosystem, while benefiting from a robust floor that will age gracefully over the years, resisting passing trends and preserving the authenticity of your living space. Opting for wood means choosing durability and timeless aesthetics.
However, it's crucial to understand that the sustainability of wood only becomes truly effective when it is certified, notably by labels such as PEFC (Programme for the Endorsement of Forest Certification schemes). PEFC is an independent organization dedicated to promoting more sustainable forest production. This certification is awarded exclusively to wood from responsible forestry operations. By choosing a PEFC-certified parquet floor, you are making an active contribution to preserving the environment. Each plank represents a commitment to the protection of our natural resources, and the assurance that your choice has a positive impact on the biodiversity and long-term health of our forests. For a sustainable, eco-responsible wood floor, Mirage flooring is the best choice. Not only are they both durable and fashionable, but their superior quality ensures that they will last a lifetime.
Renovate and repair rather than replace
Sustainability encompasses much more than just responsible manufacturing, the economical use of resources, and the guaranteed absence of components that are harmful to the environment. It also includes a product's longevity, its ability to withstand the test of time, and even its reparability should the need arise. This perspective goes beyond "disposable" and "replaceable", and rests on the promise of products that remain functional and relevant over the years, reducing the pressure on our precious natural resources and minimizing the carbon footprint associated with manufacturing new items. To choose sustainable products is to demonstrate wisdom, responsibility and respect for our planet, and to embrace a conscious lifestyle that prioritizes quality, repair and genuine sustainability, for the benefit of our environment and future generations.
Encouraging local production
Why buying local is better for the environment
Encouraging the local economy is much more than a simple action; it's a choice that generates sustainable benefits on multiple levels. By supporting local businesses and producers, we invest in the vitality of our own community. Funds circulate within our towns and villages, supporting local jobs, strengthening infrastructure and stimulating regional economic growth. What's more, trading locally reduces transport distances, which in turn reduces our carbon footprint and promotes a greener approach to business. Encouraging the local economy is a powerful way of building more resilient communities, reducing our environmental impact and promoting the authenticity and diversity of our heritage.
Barwood Pilon: a company that encourages local support
At Barwood Pilon, we're proud to offer you a vast inventory of hardwood flooring from Quebec, offering exceptional quality and breathtaking aesthetics. Our deep roots in this beautiful province allow us to carefully select materials from sustainable sources, helping to preserve our forests and reduce our carbon footprint. As mentioned, we have Mirage hardwood flooring, a masterpiece of sophistication and durability. From the magnificent region of Quebec, Mirage flooring embodies pure elegance, bringing a touch of refinement to your living space. Choosing our Mirage flooring is more than just an aesthetic decision. It's an investment in the natural and cultural wealth of our region, while bringing the timeless charm of quality hardwood to your home.