BLACK FRIDAY: Hardwood floors on sale!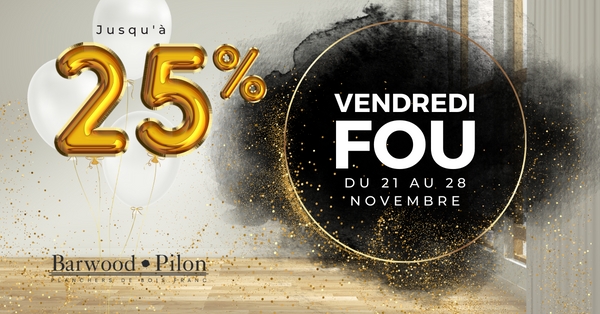 It's BLACK FRIDAY at Barwood Pilon! Get up to 25% OFF on selected floors.
Take the opportunity to get wood floors at a discount. At Barwood Pilon, we carefully select each of our products to offer you the best on the market.
So now is THE time of the year to get your hands on quality wood floors at a low price.
Barwood Pilon's Black Friday 2022 begins November 21 and ends November 28.
Don't miss your chance to have your dream floor for a fraction of the price, without waiting. All our inventory is in stock, so no delivery delays!
Discounted products
Save on several wood species such as cherry, ash, red oak and white oak!
Even hardwood and engineered floors are on sale! Not to mention the laminate floors.
Do you dream of a white oak hardwood floor? Realize your vision, without emptying your pockets. It's now or never!
Where to shop for floors on discount?
You can shop our floors at a discount on our website. To place an order, request a free estimate, or call us at (866) 588-3052
We encourage you to come see us in store during our Black Friday sale. Our experts will be happy to advise you. Shop your floors in one of our showrooms.
If you are in the Montreal area looking for hardwood flooring on discount, Barwood Pilon is your destination of choice! Come shop the best deals in town!