Estimate Request
450-300-1886
Barwood Pilon
High quality hard wood floors suitable for any budget
Hardwood Floor Maintenance

Taking care of your hardwood floors with the right products
Specially designed to care for your hardwood flooring, the ecological Mirage Clean Maintenance Kit makes life easier for you!
With its swivel head, the mop ensures greater durability. The repositioned center of gravity provides greater maneuverability. The ultra-durable telescoping handle retracts for easier storage.
The mop cover is 50% microfiber/50% cotton. The microfiber has excellent electrostatic properties, enabling it to capture dust and pet hair. The cotton makes it ultra-absorbent. It can be washed and reused, making it environmentally friendly.
The eco-friendly cleaner with delicate green apple fragrance removes dust, grease spots, dirt, and other residues. Requires no rinsing and leaves no mark. It features non-slip properties. Guaranteed to contain no phosphates, solvents, or ammonia, Mirage Clean products are environmentally friendly and biodegradable according to the OECD's 301D standards.
The box is made of 100% recycled and recyclable cardboard.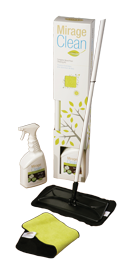 Enregistrer