Estimate Request
450-300-1886
Barwood Pilon
High quality hard wood floors suitable for any budget
Hardwood Floor Maintenance

Taking care of your hardwood floors with the right products
Specially designed to maintain your hardwood floors, the ecological Mirage Clean maintenance kit makes your life easier! Mirage Clean products are easy to use. They are not abrasive, do not leave any marks or residue on the floor and do not require rinsing.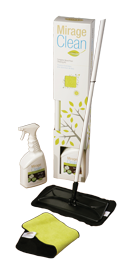 Eco Maintenance Starter Kit :
Eco Concentrate Cleaner - 34 oz (1L)
Microfiber Mop Cover
An ultra-resistant mop
The Mirage eco-friendly cleaner :  a precious ally

The eco-friendly cleaner with delicate fresh fragrance removes dust, grease spots, dirt, and other residues. Requires no rinsing and leaves no mark. It features non-slip properties. Guaranteed to contain no phosphates, solvents, or ammonia, Mirage Clean products are environmentally friendly and biodegradable according to the OECD's 301D standards.
For sparklingly clean floors, get your kit now : Contact us
---
Hardwood floor maintenance tips
Sweep or vacuum regularly so abrasive dirt won't scratch the finish.
Wipe up any spilled liquid quickly from your floor.
Never slide furniture on the floor. Protect your floors, put felt pads on the legs of your furniture and you'll be able to make them slide without scratches.
Protect your floor from sunlight and other intense artificial light sources. These will change the colour of the exposed wood.